GedComFan
GedComFan is a free genealogy program for Windows that can be used to produce ancestor and descendant fans based on GEDCOM files.
Features
Can generate both Ancestor and Descendant fans
Can read GedCom files in ANSEL, ANSI (CP1252), UTF-8 and UNICODE format
Can output to Printer (and PDF printer).
Windows 10 & 11 have a built-in PDF printer (Microsoft Print to PDF)
Can output to image files (.jpg, .png, .gif and .bmp) in any resolution from 500x500 pixels to 3000x3000 pixels
User selected fan angle from 90° to 270°
Dynamic angles and dynamic font sizing for optimal space usage
All settings can be set from command line
Examples
Examples below are based on Royal92.ged by Denis R. Reid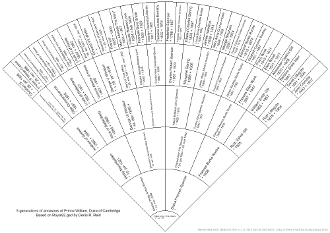 5 generations of ancestors of Prince William, Duke of Cambridge
Click on image to see bigger size.

Download as PDF in A3 format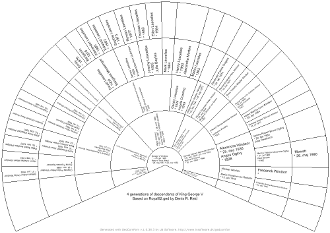 4 generations of descendants of King George V
Click on image to see bigger size.

Download as PDF in A3 format
System Requirements
Download
Click the download button to download the latest version of GedComFan. If you are upgrading from an earlier version you do NOT need to uninstall the old version before upgrading.
Download
Changelog
2023-03-10 (1.0.2908.5)

Added support for ANSI format (Windows Codepage 1252)

2015-05-09 (1.0.46.12)
Support
If you should experience any problems with the program, or should have any ideas or wishes for new features, please don't hesitate to contact me at gedcomfan@lnsoftware.dk.